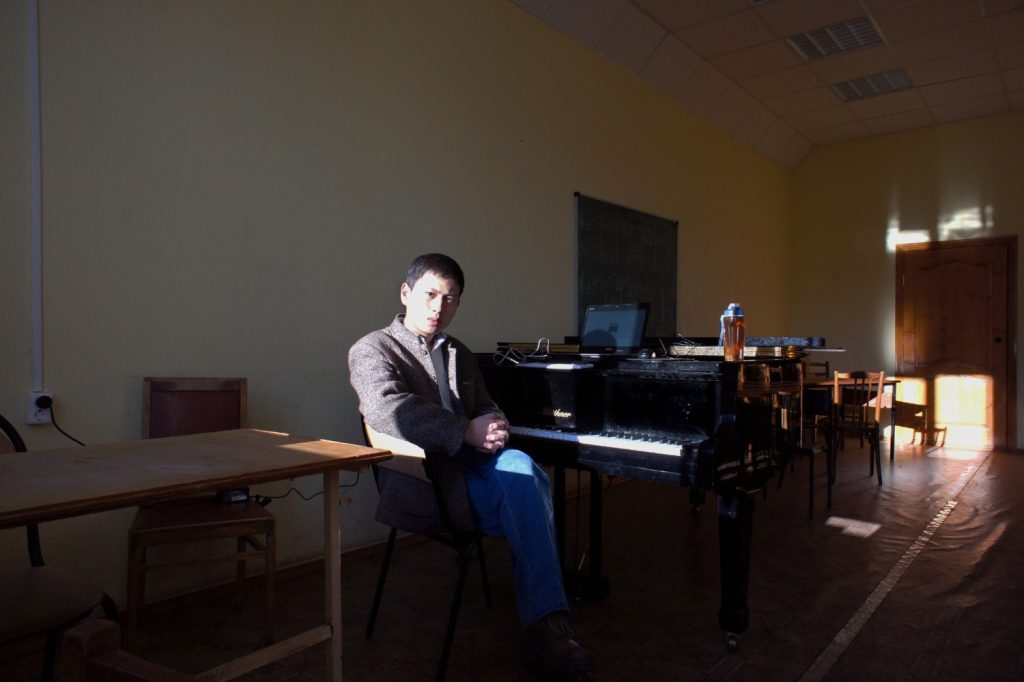 Yanchen Ye is an award-winning Chinese contemporary classical music composer. Ye's orchestral works have been performed by world-class orchestras, including MDR Leipzig Radio Symphony Orchestra, National Ballet of China Orchestra, China National Centre for the Performing Arts Orchestra, and Seattle Symphony. The National Ballet of China says, "Despite being a young composer, not only can he master large symphonic orchestra but he is also quite skilled in modern compositional techniques. [His] 'contemporary works' feature euphonious sounding that is precious in many 'contemporary works'; the rich colorfulness, abundant gradation, and strong dramatical tension are especially impressive."
  After receiving (2012) the Grand-prize at the Third Composition Competition named after C.C. Prokofiev in Chelyabinsk, Russia, Ye has continued to receive worldwide recognition. The recognition of his very first symphonic work at the China Ministry of Culture's 16th National Symphonic Composition Competition galvanized him to continue finding his own expression through the orchestra. The Morning at Bita Lake (碧塔海之晨) for symphonic orchestra, then, won the second prize at the National Center for the Performing Arts' (NCPA) Second Young Composer Programme Competition (2013), where Ye was the youngest composer competing. After the finalist concert, Dutch composer Joël Bons commented, "I am very impressed by the excellent cohesion in Yanchen's Morning at Bita Lake." MDR Leipzig Radio Symphony Orchestra's chief conductor Kristjan Järvi also programmed The Morning at Bita Lake at the TonLagen Festival at Festspielhaus Hellerau, Germany. Ye was invited by Zuohuang Chen to the Fourth China Orchestra Festival in Beijing where his music was also performed. Soon after, Maestro Chen conducted Ye's piece during the Guiyang Symphony's concert tour in Guiyang, Shenzhen, and Hong Kong.
  In 2015, Ye's career continued to advance. Vale of Glamorgan Festival (United Kingdom), commissioned Ye to compose for this leading festival of contemporary music. His composition, Two Pieces for seven strings, was presented alongside new music commissions from composers such as Arvo Pärt, Tan Dun, and John Adams. Soloists from China's NCPA Orchestra performed the premiere of Ye's music in Wales. After the concert, the Wales Arts Review stated that they "look forward to hearing more of Ye's music." In the same year, Ye had his debut performance in the United States, featuring his symphonic overture Xizi (戏子) at Benaroya Hall in Seattle. The Seattle Symphony performed this work as a result of Ye being the sole winner of the Celebrate Asia International Composition Competition. Seattle Times reviewed Xizi as "The major triumph." Ye's music impressed the local audience at its first arrival.
  In Ye's compositional philosophy, being original never simply means to search for unconventionality. Instead, new inspirations and excellent expressiveness are often found in the most simple musical elements and tonal universe. Ye often uses short, small motives or melodic fragments as main idea to build a composition with sophistication of development. Despite the simplicity of materials, their evolution to form multidimensionality of element relationship and coherency often raises music ideas to be expressively noticeable and emotion-evoking. On his compositional philosophy, the National Ballet of China commented that Ye's music "would be the ideological trend of post-modern arts."
  Ye graduated Magna Cum Laude from the Nizhny Novgorod State Conservatory with a Bachelor's and Master's degree in Composition, and New England Conservatory with a Master of Music in Composition. He is currently working towards his D.M.A in music composition at the University of Michigan, Ann Arbor.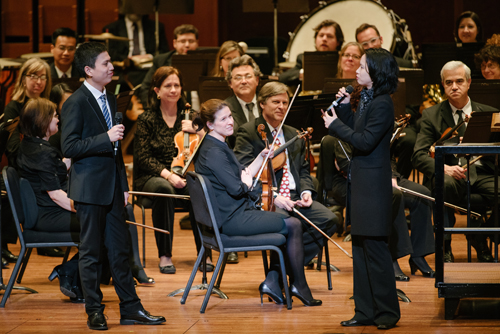 Yanchen Ye interviewed by Carolyn Kuan
at Benaroya Hall with Seattle Symphony
(Photo by George Liu/Northwest Asian Weekly)